To complement our construction services, Blue Rock also offers trucking services.  Our truck inventory includes 1 quint-axle and 3 quad-axle dump trucks, averaging 21 tons of payload.  All of our trucks are newer models in top condition.  Our drivers all have a minimum of two years of trucking experience and submit to random drug and alcohol screenings.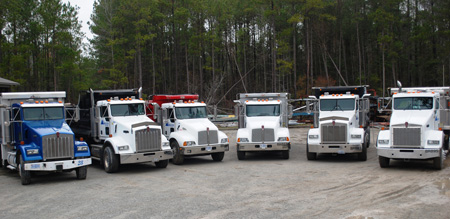 Our heavy duty dump trucks provide hauling of rock, dirt, sand, gravel, debris, asphalt, and other materials. Our principal service area is in Eastern North Carolina, but we do travel beyond this region, if needed.
Our insurance carrier is Selective Insurance Companies for auto and general liability insurance.  We will gladly provide proof of insurance upon request to our customers.
For additional information regarding our Trucking Division, or to schedule us for a job, please contact our Trucking Manager, David Collins at (910) 743-0503, cell (252) 675-7350.
Mailing Address
PO Box 129
Pollocksville, NC 28573
Street Address
10689 US Highway 17
Pollocksville, NC 28573
Phone
910-743-0505
estimating@bluerockstr.com